Plan Overview
This is an 8-week, full-body training program. It can be used to get leaner, build muscle, or both (body recomposition). It includes in-app coaching with ME for the entire duration of the program as well as an extensive section in the app for all of your nutrition questions!
The Spring Challenge is set up for 5 training days and two rest days of your choice per week. The program will progressively get more challenging as you get stronger! I will adjust your macros and cardio weekly or as needed throughout the 2 months to ensure you're on the right path for your goals!
With the addition of the app you will have access to a private forum so you can meet and chat with the other ladies in the Challenge, a private video library that corresponds with your workouts, and lots of other fun features to keep you motivated and excited about your fitness journey!
What You'll Learn

Technique
How to break down workouts by muscle group.
Proper technique/form for each exercise.
How to effectively train all major/minor muscle groups.
Different methods of cardio (low intensity, high intensity, steady state).
Nutrition
The importance of nutrition combined with training.
How to calculate and track your macros.
What foods would be optimal in reaching your macronutrient goals.
What supplements can be beneficial and the purpose of each.
What You'll Get
8 weeks of in-app coaching combined with full-body training program.

My Nutrition Guide, explaining all about macronutrients, water intake, sodium intake, pre- and post-workout meal examples, meal timing tips, and more.

Sample grocery list broken down by each macro (protein, carbs, fats, and fiber).

List of optional supplement recommendations.

The opportunity to be a part of a community that utilizes social media to support, encourage, and motivate each other.

The eligibility to win prizes , even though that shouldn't be your main motivation for improving yourself. It makes the challenge even more fun!
Real Women. Real Results.
Here I showcase some of my favorite client transformations.
See More
Fall 2017 Challenge, Summer Promo 2017
My outlook on life has changed, I have energy to do things again. I am pregnant again and already this one feels different, I make time for exercise and I try to focus on eating as healthy as I can, all thanks to Katy! I will forever be grateful for her putting her self out there on Instagram and motivating me to become a better person.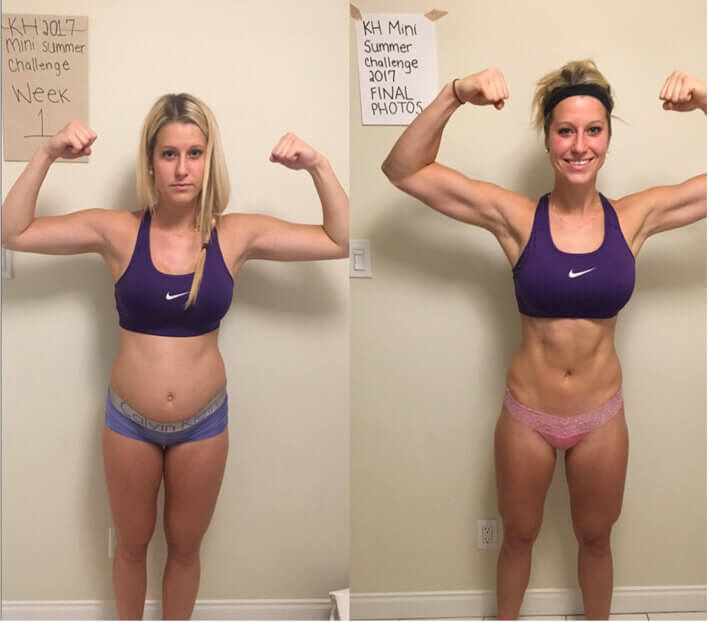 FAQs
Is an apartment gym or home gym enough for this program?

You will need access to free weights, cable machines, barbells, smith machine, leg press, benches, squat rack, and various other pieces of equipment.

Is this plan vegan/vegetarian friendly?

Yes! With a flexible dieting approach, you can fill your macros daily with the foods you enjoy!

Is this for US residents only?

No! If you have a smartphone and a gym, you can join!

Does the program expire after it's over?

No! The coaching and Challenge forum will end but you will still have access to the plan, it's yours to keep!
Be Katy's Next Success Story